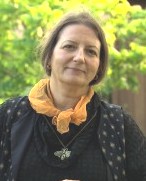 Pat Bono
Rochester, NY
Products:
pure, natural, unpasteurized strained honey — liquid, creamed, and honeycomb.  Beeswax candles and ornaments.
Growing methods:
A small artisan, award winning honeybee apiary on the historic Seaway Trail, outside of Pultneyville in Wayne County, by Lake Ontario, NY, featuring "Honey through the Seasons", harvested from apple blossom,
Basswood or linden blossom, wildflowers, to the robust goldenrod Fall honey.  The honey is harvested every few weeks to capture the quality of the seasonal wildflowers. To ensure purity & quality, only honey gathered from the bees at the farm is sold.

Pollen analysis is done by the Texas A&M Palynology Lab.
Unpasteurized, raw, no chemicals,

Kosher certified
Since no pesticides or antibiotics are used, my bees are managed more intensively; I replace typical winter loss by dividing up the winter hardy colonies, and by capturing honey bee swarms. I take a very active role in promoting beekeeping and pure honey, from organizing the Rochester Beekeepers club to  being the Project Director of the NY Bee Wellness workshops (

NYBeeWellness.org

), a 501c3 non-profit program to teach New York beekeepers how to

recognize

honey bee disease. Resident of Brighton for 20 years.
Honey is such a special food- thousands of bees toil to collect minute amounts of nectar from flowers and condense it into honey; a process which can never be mechanized!"
Awards and distinctions:
Best of Show : Honey, New York State Fair 2012

Blue Ribbons : Honey & Beeswax- New York State Fair 2013, 2014

Honeycomb and Honey served at the 2013 Presidential Inauguration Luncheon,

Washington DC

 Black Jar Award :

Judged best tasting honey in the Eastern United States,

Eastern Apicultural Society 2013

Best of Show Reserve : Honey, New York State Fair 2013

 Blue Ribbon : Honey,

Eastern Apicultural Society 2013
Certified Kosher by Rabbi Hochheimer of Congregation Beth Hakneses Hachodosh, Brighton.