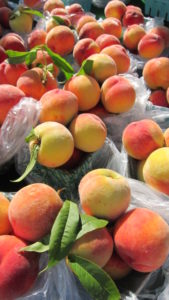 This Week at the Market – July 24, 2016
Brighton Farmers' Market is hot! Well, everything and everybody are hot these days. It's hot and dry on our farmers' farms, which can be challenging; Mother Nature seems to throw one curve ball after another at our farmers. But you'd never know it from the gorgeous abundance of summer produce, piled high on the tables at the Market. We'll be remembering these days of summer abundance come January.
This Sunday at the Market, K&S Bischoping will have Flamin' Fury and Candor peaches, black raspberries, red and black currants, and blueberries. Shannon Brook Farm is featuring organically-fed, pasture-raised pork butt roasts and smoked ham hocks for pulled pork and recommends this recipe.
Growing Family Farms will have certified organic tomatoes, eggplant, peppers, sweet fresh onions, fresh garlic, inchelium red soft neck garlic braids, Asian cucumbers, slicers, a new cuke variety–Crystal Apple, French filet beans, summer squash and zukes including Italian heirloom Rampicante, cauliflower, broccoli, salad mix, fresh herbs (parsley, dill, and basil), rainbow chard, Tuscan kale, sunnies, free range eggs, Smugtown shiitakes, and Singer Farm Naturals tart cherry juice.
Buzz's Garden is bringing beets, baby Swiss chard, celery, green and yellow beans, green and yellow zucchini, kale, slicing and cherry tomatoes, fresh onions, garlic, garlic scapes, and basil. Stonecrop Farm will have certified organic fresh whole chickens, an assortment of fresh chicken parts, eggs, fresh basil, and pasture raised pork cuts.
Clearview Farm will have certified organic sunburst patty pan summer squash, slicing and pickling cucumbers, eggs, Callan Farms dry black beans, buckwheat, fresh basil (Genovese and lemon), dried herbs (thyme, sage, Italian oregano, spearmint, and lemon mint), and 100% grass fed Angus ground beef and variety meats. Honeybee Happy & Healthy Herbs is bringing freshly cut green and purple basil, curly and flat-leaf parsley, dill, cilantro, chives, sage, thyme, peppermint, spearmint, and lemon balm; also very mild hot peppers, raw honey, yellow squash, rainbow chard, and a selection of spices and teas.
Happy Hooves Organic Farm is bringing certified organic 100% grass fed and finished beef, certified organic pasture-raised and soy-free fresh chickens, home baked goodies and jams, and raw honey. Lakestone Family Farm will have five color carrots, broccoli, sugar snap peas, fava beans, head lettuce, lettuce bouquets, napa and savoy cabbages, red and gold beets, Swiss chard, three varieties of kale, summer squash, fennel, purslane, eggs, and a full variety of fresh cut chicken pieces as well as whole chickens, all certified organic.
Tripleberry Farm is bringing fresh picked, pesticide-free blueberries, blackberries, and raspberries, plus jams and goat milk soaps. Wohlschlegel's Naples Maple Farm will have three flavors of Grade A pure maple syrups (golden, amber, and dark), maple cream spread, maple garlic rub, granulated maple sugar, maple mustard, all natural maple dog biscuits, and body care products — maple vanilla soap, lotion, scrub, and lip balm.
Bolton Farms will have lettuce bouquets, bibb lettuce, spring mix, arugula, watercress, spicy mix, kale, parsley, basil, bok choi, green and yellow squash, and heirloom tomatoes. Seaway Trail Honey is bringing fresh early summer honey and honeycomb harvested this week with light, sweet, floral tones from the nectars of milkweed, clover, and basswood blossoms, all raw and local; visit the educational display for local nonprofit NY Bee Wellness, with live honey bees.
Andy's Specialty Garlic & Produce will have certified organic vine ripe tomatoes, sweet peppers, sweet onions, garlic, red new potatoes, green leaf lettuce, escarole, red beets, green cabbage, zucchini, spinach, kale, and pickling cucumbers. Fisher Hill Farm is bringing sweet corn, zucchini, summer squash, cucumbers, sweet onions, shallots, garlic, fennel, radish, lettuce, new potatoes, carrots, onions, eggs, fresh chicken, and Red Jacket juices.
Farmhouse Table is bring fresh salads and baked goods featuring ingredients from farms at the Market. JonJohn's Bakery will have barbecue pork spare ribs with baked mac and cheese; sweet potato and blueberry tarts; zucchini bread; blueberry, blackberry, sweet potato pies; peach cobbler; blueberry cheesecake; lemon blueberry cake; chocolate fudge brownies and cheesecake brownies; blueberry and raspberry muffins; peanut butter balls; oatmeal cranberry and chocolate chip cookies; Grandmas' breakfast cake; and ice cold lemonade.
Nordic Farm is bringing lots of jams and the start of the pickles, including sour cherry jam, bourbon cherry jam, fresh strawberry jam, apple jelly, peach jam with the first of K&S Bischoping peaches, three kinds of granolas, and jams with no sugar added, sweetened with apple juice concentrate.
Pasta Classics will have ravioli flavors including smoked mozzarella and asparagus, butternut squash, and crab and shrimp; Nancy will also have lemon pepper fresh pasta, gnocchi, and baked stuffed breads. Rise and Shine Bread is bringing English muffin bread, asiago ciabatta, focaccia, honey wheat, raisin, beer bread, and sweet breads.
Biscotti for Everybotti is bringing ginger, coconut chocolate chip, gluten free chocolate, and vegan chocolate biscotti. Happy Earth Tea will have iced Bombay chai, iced hibiscus tea, and cold brew Darjeeling, plus a range of organic tea and herbal blends. Flour City Pasta will have tomato pesto radiatores with cold caprese salad recipe and Three Heads Brewery The Kind IPA fettuccine.
Eat Me Ice Cream will have cassis & cream cheese swirl ice cream sammies (dairy and non), the Hug Up chocolate and vanilla (dairy), S'mores chocolate marshmallow (non-dairy), freeze pops, Coco Nana, strawberry, Just Juice Berry Red, and from Just Juice 4 Life– Kale Ale, Mother Earth, Minty Melon, Anti-Inflamm, and Green Up.
Also at the Market
We welcome Jeff Slutsky and Friends to the music tent.
ColorBrightonGreen.org will collect recycling items; check here for items they are currently able to accept and recycle.
Please consider donating to the Brighton Food Cupboard to support their efforts on behalf of the needy in our community.
EBT/SNAP Bonus Program/Fresh Connect Checks
We're pleased to offer our Market Bonus Program for EBT/SNAP customers. Purchase at least $10 in tokens with an EBT card, and receive $5 in bonus tokens to be used at the market to purchase EBT eligible foods. We now are also offering Fresh Connect Checks to SNAP customers; this state-funded program allows us to give a $2 Fresh Connect Check with each $5 in tokens purchased with an EBT/SNAP card, which can be used to purchase any SNAP-eligible foods at the market.
Dogs at the Market
Brighton Farmers' Market welcomes friendly dogs on leash. On very hot days the black pavement at the High School gets surprisingly hot for tender paws, hotter than you might imagine. The best way to tell if it's too hot for dogs' feet is to test the pavement with your own bare foot. If it's too hot, please leave dogs home in a nice cool place.
Market Details
Brighton Farmers' Market is held Sundays, 9 am to 1 pm in the Brighton High School parking lot, 1150 Winton Road S., Rochester. The Market is sponsored by the Town of Brighton. More information about the market can be found at http://www.brightonfarmersmarket.org or on the Market's Facebook page.
See you Sunday!