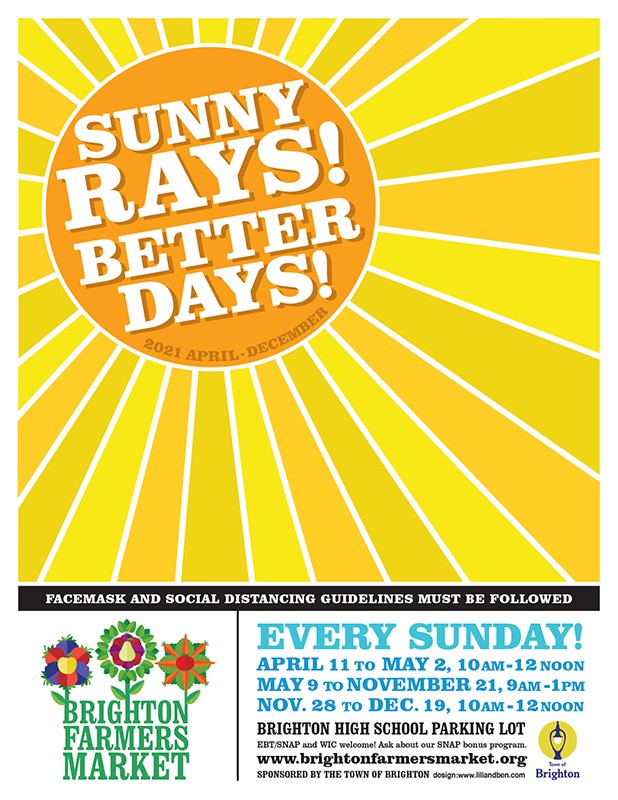 This Week — April 11, 2021
Happy spring! Brighton Farmers' Market opens this Sunday, April 11, for a special Early Season! COVID closed our usual winter market, so we're opening early outside at Brighton High School to offer spring treats, through May 2. We're glad to be back! Please note Early Season hours are 10 am to noon. The Main Season opens May 9, also at BHS, at the regular hours of 9 am to 1 pm.
Safety
We continue to prioritize the health and safety of our vendors and our customers. Face masks fully covering nose and mouth must be worn, and social distancing must be maintained.
EBT/SNAP Bonus Program

Brighton Farmers' Market is pleased to offer SNAP (Supplemental Nutrition Assistance Program) customers the opportunity to purchase tokens using their SNAP benefits, which can be used to buy SNAP eligible foods at the Market. Any SNAP customer who purchases $5 in tokens with SNAP benefits will also receive a bonus $2 FreshConnect Check to purchase eligible Market products.
Vendors This Week
K&S Bischoping
apples including Gala, Macoun, and Crispin
For all preorders use kbischoping@rochester.rr.com.
Bolton Farms
boltonfarms.gofarmmarket.com
hydroponic greens and herbs and soil-grown products
Please order between Thursday morning and Friday 11 pm.
SNAP and FMNP/WIC customers email boltonfarms@frontier.com to preorder.
Brian's Kitchen
brianskitchen.com
a variety of cookies including traditional and gluten free/vegan, granola bars, and chocolate fudge
SNAP and FMNP/WIC customers email brian@brianskitchen.com to preorder.
Clearview Farm
clearviewfarm.company.site
certified organic butternut, delicata, and carnival acorn squash, dried herbs (dill, lemon basil, holy basil, catnip), organically-fed free-range eggs, 100% grass grown and finished Angus beef, Genesee Valley Bean dry beans (black, red kidney, pinto)
SNAP and FMNP/WIC customers email clearviewfarm@bluefrog.com to preorder.
East Hill Creamery
easthillcreamery.com, easthill@frontiernet.net, or 585 237-3622
four varieties of cheese, plus Smoked Underpass cheese, cheese dips (Bavarian beer, spicy Mexican, caramelized onion), eggs
SNAP and FMNP/WIC customers email easthill@frontiernet.net to preorder.
Fellenz Family Farm
fellenzfamilyfarm.com
certiifed organic microgreens, red onions, kale and chard transplants, nasturtium transplants, Wild Thistle Herbal salves, balms, etc.
Please pre-order or reserve by emailing erik@fellenzfamilyfarm.com
Fisher Hill Farm
fisherhillfarm.com
variety of vegetables, chicken, eggs
SNAP and FMNP/WIC customers email phillipmunson@yahoo.com to preorder.
Flour City Bread
flourcitybread.com
artisanal breads and pastries
Growing Family Farms
growingfamilyfarms.com
certfied organic vegetables and garden transplants
Impact Earth
compost bucket swap service plus zero waste lifestyle products
JonJohn's Bakeryemail jonjohnsbakery@gmail.com or phone/text 585-750-4244
blueberry blackberry muffins, peanut butter bourbon balls, carrot cake, lemon blueberry cake, oatmeal cranberry cookies, chocolate chip cookies, frosted sugar cookies, brownies
Pre-orders are encouraged but not necessary. jonjohnsbakery.com.
SNAP and FMNP/WIC customers email jonjohnsbakery@gmail.com to preorder.
Lagoner Farms
https://lagonerfarms.com/shop-brighton-farmers-market
apples and vegetables
SNAP and FMNP/WIC customers email lago1403@gmail.com to order.
Lakestone Family Farm
lakestonefamilyfarm@gmail.com
whole chickens and chicken pieces
Lavender Moon Herb Gardens
lavendermoonherbs.com or email angela@lavendermoonherbs.com
herbal products
If ordering on website please select option for pick up at the market.
Orders may also be left on shop phone at 585-624-4220 along with your email; you will be billed directly and be able to pay with credit or debit card.
SNAP and FMNP/WIC customers email angela@lavendermoonherbs.com to preorder.
Le Petit Poutine
www.lepetitpoutine.com
a variety of poutine flavors
Lighthouse Gardens
https://www.lighthouse-gardens.com/online-store.html
certified organic vegetables, plants, garden transplants, succulents, potting soil
SNAP and FMNP/WIC customers email toddlighthouse@gmail.com to preorder.
Molecular Inc.
a variety of gluten-free baked goods
info@experiencemolecular.com
Seaway Trail Honey
https://seaway-trail-honey.square.site/s/shop, https://www.nyhoneybuzz.com/#/ or 585-820-6619
seasonal, local, raw honey, all certified Kosher: spring, early summer, summer, late summer, fall; some naturally crystallized honey; honeycombs in all sizes; cute seasonal mini honey bears; infused honeys with lavender, ginger, rosemary, red pepper, cinnamon, cocoa; specialty bottles. Accepting donations for educational 501c3 NYBeeWellness.org
To order in advance or if looking for a particular season or size contact Pat at 585-820-6619, seawaytrailhoney@gmail.com or visit NYHoney.Buzz
SNAP and FMNP/WIC customers email seawaytrailhoney@gmail.com to preorder.
Shannon Brook Farm
shannonbrookfarm.com
pasture-raised, certified organic whole chickens and pasture-raised, certified organic whole ducks; pasture-raised, certified organic chicken eggs; pasture-raised, certified organic pork: ground and six types of sausages (chorizo, andouille, breakfast, hot Italian, mild Italian, kielbasa), no-nitrate smoked bacon, jowl bacon, cottage bacon, hams and hocks, center-cut chops, butt roasts, spare ribs, fresh hams, soup bones, leaf lard; grass-fed lamb: ground, chops (rib, loin, shoulder, neck), rack, leg steaks, roasts (deboned leg, deboned shoulder, bone-in shoulder), shanks, soup bones, and organs (must be pre-ordered)
Pre-ordering is highly recommended. Call 607-731-1840 or email shannon@shannonbrookfarm.com. Payment is accepted upon pickup at the market.
Smugtown Mushrooms
mushrooms and mushroom products
smugtownmushrooms@gmail.com
Wohlschlegel's Naples Maple Farm
naplesmaple.com
maple mustard; bourbon barrel aged maple syrup; bourbon barrel aged coffee infused maple syrup; huckleberry infused maple syrup; maple BBQ sauce; maple fudge; maple cotton candy; maple coated almonds, cashews, pecans; traditional, cinnamon, and raspberry maple cream spread; pure NYS maple syrup (golden, amber, dark, very dark); granulated maple sugar; maple garlic rub; maple cashew granola, maple coffee and tea; wheat free oatmeal maple dog treats; soft and hard sugar candy
Please write Pickup @ Brighton in NOTES box. Please order by Saturday afternoon.
SNAP customers email naplesmaple@gmail.com to preorder.
See you Sunday!