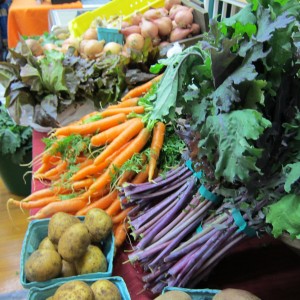 Brighton Winter Farmers' Market
Sundays 1 to 4 pm
Brookside Center
220 Idlewood Road, Rochester
This Week at the Market
Despite the cooler days, the abundance at Brighton Winter Farmers' Market indicate that the harvest is still going strong on our local farms. Fellenz Family Farm is bringing several apple varieties; Hakurei turnips (sweet and mild, good in salads); Cherokee red lettuce; Space spinach; rutabaga; leeks; celeriac; and Red Maria, Carola, and Keuka Gold potatoes, all certified organic. Clearview Farm will have certified organic ground cherries, escarole, arugula, Osaka purple mustard greens, watermelon radishes, kale, Hakurei and purple-top turnips, rainbow carrots, scallions, eshallions, shallots, leeks, garlic, cilantro, and free-range, organically-fed eggs. Happy Hooves Organic Farm is bringing certified organic 100% grass fed and finished beef and pasture-raised pork.
Andy's Specialty Garlic & Produce is bringing red and green leaf lettuce, sweet carrots, beets, green and purple cabbage, kale, garlic, butternut and acorn squash, pumpkins, radishes, turnips, and sweet potatoes, all certified organic; they will also be taking orders for carrots, beets, cabbage, and sweet potatoes in bulk. Fisher Hill Farm will have fresh chicken, sweet potatoes, rutabaga, root vegetables, potatoes, onions, cauliflower, broccoli, cabbage, bunched beets, leeks, kale, grapes, lettuce, winter squash, and peppers, and will take orders for Thanksgiving turkeys, raised on either organic or conventional feed. K&S Bischoping will have lots of apples, including Honey Crisp, Cortland, Jonagold, Crispin, Idared, and Macoun, as well as an assortment of heirloom varieties.
Lighthouse Gardens will have rainbow cherry tomatoes, multicolored sweet peppers, purple and green tomatillos, napa cabbage, rainbow Swiss chard, multiple varieties of kale, beets, garlic, baby leeks, mixed mini-head lettuce bouquets, braising greens mix, Easter Egg radishes, pea shoots, and a variety of herb plants, all certified organic. Growing Family Farms is bringing limited tomatoes, peppers, sweet potatoes, eggs, some mushrooms, kale, Swiss chard, and Small World Food's dilly beans, miso, and fresh bread. Honeyhill Farm is bringing certified organic sweet carrots, shallots, onions, kale, mixed baskets of lettuce, fresh baby ginger, four kinds of potatoes, garlic, and frozen chickens, with some large birds for holiday meals. Newbury Park Pastries will have chicken, veggie and panang pot pies.
Bolton Farms will have hydroponic lettuce bouquets, spring mix, Boston Bibb lettuce, escarole, arugula, bok choi, kale, pea shoots, cilantro, parsley, basil, and winter squash. Seaway Trail Honey is bringing a seasonal assortment of award-winning raw natural honey. Wohlschlegel's Naples Maple Farm will have jugs of extra dark maple syrup for cooking (Grade B) and a fresh batch of maple cream. Flour City Pasta will have pumpkin and pumpkin chipotle pasta plus Autumn Harvest Orzo — a combination of apple-cinnamon, parsley sage, pumpkin, and beet orzo, plus recipes.  Singer Farm Naturals will have certified organic early Portuguese garlic (Turban), with a slightly sweet yet full-bodied flavor with just a hint of heat. Tripleberry Farm will have pesticide-free jams, available in traditional and reduced sugar recipes (with samples) plus goat milk soaps including unscented oatmeal and honey, great for sensitive skin.
Also at the Market
John Wiesenthal will join us with his guitar.  ColorBrightonGreen.org will collect hard-to-recycle items. Brighton Food Cupboard will accept donations of food and cash to help support its mission of providing food to the needy in our community.
Brighton Winter Farmers' Market is held Sundays, 1 to 4 pm, through April 13, 2014.  It's held in Brighton's Brookside Center, 220 Idlewood Road, Rochester. There is a second entrance to the building, easily accessible, from S. Winton, between Westfall and 590 (just south of Westfall).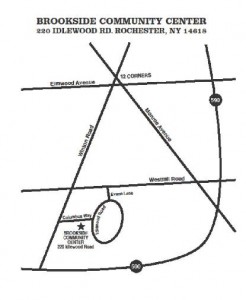 The Brighton Farmers' Market is sponsored by the Town of Brighton.  For information on lots of great activities sponsored by the Town's Recreation Department, see http://www.townofbrighton.org/index.aspx?nid=220. To register online for programs, see https://secure.rec1.com/NY/Town-Brighton-Parks-Recreation/reg.php
See you Sunday!