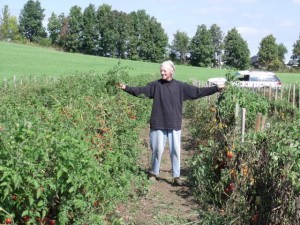 CERTIFIED ORGANIC
Jim and Pat Sharpless
Lyons, NY
The Farm
Jim and Pat Sharpless purchased their farm in 1999.  It consists of 62 acres, 40 of which are tillable; the remaining acres are covered with hardwood and spruce forests on two scenic drumlins. Jim and Pat live in the old farmhouse which, along with a big old barn, was built in 1870.  They now grow their vegetables and fruit on 3-6 acres of the farm, plus hay on 20 acres and wheat on 8.
According to Jim and Pat, "Organic Matters Farm is a small, family-operated organic farm located between Newark and Lyons.  We have been certified by NOFA-NY since 2000 and, situated between two drumlins, we find our location to be ideally suited for growing organic fruits and vegetables.  We grow a wide variety of produce, from asparagus in the spring to winter squash and pumpkins in the fall.  We sell our produce at the Brighton and South Wedge Farmers' Markets and to local restaurants.  Yes, we're busy, but we love what we're doing. (We'd have to love it, what with our 90-hour weeks during the summers!)  We are trying to be a part of the local food movement, known as "locavores," to help keep New York green.  By supporting local growers, our customers are doing their parts too."
Growing Practices
Farm is NOFA-NY Certified Organic; organic practices applied to all vegetable and fruit production.  Soil building is achieved through crop rotation, fallowing, and use of cover crops.  Weed control is through hand weeding, tilling, flaming.  Insect control is through crop rotation, Kaolin soil, and hand picking.