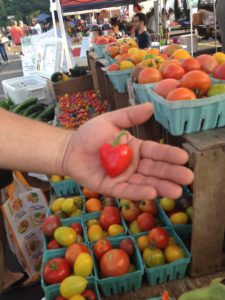 This Week at the Market – October 8, 2017
Brighton Farmers' Market is a year-round market, and we love all the seasons. But October is special — summer crops are still abundant, and the fall harvest is well underway. It's a beautiful, flavorful, colorful month. Come share some October love with us this week at the Market. The summer Market continues through November 19, and the winter Market opens November 26 at the Brookside Center, 220 Idlewood Rd., Sundays 1-4.
This week Growing Family Farms will have certified organic peppers — maybe heart-shaped — including poblano, roasting, and sweet tangerine; tomatoes including bulk quantities for sauce; Italian eggplant; onions; potatoes; celery; romaine and red leaf lettuce heads; endive; escarole; kale; pasture-raised chicken and duck eggs; and Singer Farm Naturals tart cherry juice. Buzz's Garden is bringing certified organic heirloom tomatoes; red, white, and blue potatoes; purple and white daikon radishes; watermelon radishes; hakurei turnips; ginger; turmeric; fennel; garlic; microgreens; pea shoots; sunnies; kohlrabi; kale; green cabbage; yellow onions; winter squash; and fresh herbs thyme, sage, chives, and mint.
Bolton Farms will have the last sweet corn of the season, lettuce bouquets, Boston bibb, arugula, basil, heirloom tomatoes, kale, dandelion greens, spicy mix, microgreens, pea shoots, parsley, and winter squash. K&S Bischoping will have the first quince of the season, Bosc pears, and apples including Honeycrisp, Crispin, Gold Delicious, Empire, Cortland, Macoun, and Gala as well as a selection of heirlooms.
Honeybee Happy & Healthy Herbs is bringing jalapeno and cayenne hot peppers, rainbow radishes, catnip, chives, cilantro, curly parsley, dill, flat-leaf parsley, French tarragon, oregano, peppermint, rosemary, sage, stevia, and thyme, along with frozen pizza dough. Stonecrop Farm is bringing certified organic fresh turmeric and ginger, whole ducks, cuts of pasture-raised heritage pork, organic turkey stock making supplies, and fresh organic whole chickens and chicken parts, including leg quarters, wings, backs, feet, and organs.
R&M Bischoping will have sweet and tender sugar snap peas, ginger and turmeric, pumpkins, acorn and butternut squash, cherry tomatoes, tomatillos, hot cayenne peppers, heirloom tomatoes, kale, honey, beeswax lip balms, and honey soaps. Shannon Brook Farm is featuring grass-fed lamb raised on certified organic pastures — ground, leg, chops (leg, loin, rib), shoulder roasts, shanks, riblets, and bones for soup or stock.
Shady Lane Farm is bringing assorted winter squash, edamame, sweet potatoes, red and albino beets, green and colored sweet peppers, shishitos, jalapenos, chard, ground cherries, sweet and cooking onions, red and banana shallots, and a variety of fresh-cut flower bouquets.  Happy Hooves Organic Farm is bringing 100% grass-fed and grass-finished organic beef, pork from organic pasture-raised pigs fed no corn or soy, frozen organic duck from the pasture-raised flock fed no soy or corn, organic eggs from free-ranging hens, fresh raw honey, and farmstead soaps and candles made with organic ingredients from the farm.
Chicory Blue Gardens will have lots of pretty dahlias and a mix of flowers in fall colors. Andy's Specialty Garlic & Produce is bringing certified organic carrots, beets, spinach, yellow snap beans, salad mix, arugula, pea shoots, baby kale, red and green leaf lettuce, radishes, turnips, colored peppers, plum tomatoes, red and yellow potatoes, green cabbage, yellow onions, and hardneck garlic.
Seaway Trail Honey is bringing raw, fresh, local seasonal varieties of award-winning honeycomb and honey, from spring to fall pure wildflower honey from the bees by the shore of Lake Ontario, certified Kosher; flavorful local black walnuts in honey; different types of crabapples, and pectin-rich quince, both fruits pollinated by Seaway Trail Honey bees; this is the last week to see the live honey bees for the non-profit NY Bee Wellness educational display. Lavender Moon will have home grown, super sweet grapes; Lavender Moon will donate all proceeds from grape sales to their Market neighbors Fellenz Family Farms, which suffered a destructive fire at the farm last week.
JonJohn's Bakery is bringing pumpkin muffins, pumpkin coffee cake with an apple cider glaze, apple cobbler and cake, mixed berry and brownie muffins, chocolate chip muffins, chocolate cake with ganache, classic carrot cake, lemon blueberry cake, banana bread with chocolate chips and walnuts, grandma's breakfast cake, chocolate chip and oatmeal cranberry cookies, chocolate peanut butter balls, and dark chocolate bourbon balls. Pasta Classics will have ravioli including three cheese, pumpkin, and chicken wing, plus ravioli bakes, cheese gnocchi, and baked stuffed breads.
Wohlschlegel's Naples Maple Farm is bringing bourbon barrel-aged maple syrup; maple cotton candy; maple coated almonds, cashews, and pecans; traditional, cinnamon, and raspberry maple cream spread; maple mustard; pure NYS maple syrup in golden, amber, dark, and very dark; maple cream spread; granulated maple sugar; maple garlic rub; maple coffee and tea; wheat-free oatmeal maple dog treats; soft and hard sugar shapes; and body care products — maple vanilla soap, lotion, and lip balm.
Newbury Park Pastries will have chicken, veggie, shepherds, panang, and Philly cheesesteak pot pies along with seasonal sweet pies and tarts. Le Petit Poutine is bringing peach cinnamon soda, sausage gravy poutine, and bacon cheeseburger poutine. Brian's Kitchen is bringing cookies, granola bars, and chocolate fudge.
This Week's Music
We welcome The Tree Nuts to the music tent this week.
Also at the Market
Ask a Scientist —  Each week we welcome scientists to join us at our Ask a Scientist table to answer all kinds of questions you might have about pretty much anything. Kids' questions are welcome! Brighton Farmers' Market celebrates the importance of science to our everyday lives, to society, to policy, and to our mission of promoting a healthier, more sustainable food system.
CommUnity: We Grow Better Together — This year at the Market we celebrate CommUnity; as Supervisor Moehle says, the most important part of Community is Unity. We honor those who help promote the strong, welcoming, inclusive community that we all value. This week we welcome the following organizations:
Cornell Cooperative Extension Farmers' Market Nutrition Program
Citizens' Climate Lobby
Chabad House
National Multiple Sclerosis Society, Upstate NY Chapter
ColorBrightonGreen.org will collect recycling items; check here for items they are currently able to accept and recycle.
Please consider donating to the Brighton Food Cupboard to support their efforts on behalf of the needy in our community.
Special thanks to Impact Earth for providing zero-waste services to Brighton Farmers' Market each week.
EBT/SNAP Bonus Program — Fresh Connect Checks
We're pleased to offer Fresh Connect Checks to SNAP customers. This state-funded program allows us to give a $2 Fresh Connect Check with each $5 in tokens purchased with an EBT/SNAP card, which can be used to purchase any SNAP-eligible foods at the market.
We are pleased to be part of Farmers Markets ROC, a collaboration of Rochester area farmers' markets that received grant funding to promote greater SNAP participation at our farmers' markets. See FarmersMarketsRoc.com for more information.
Market Details
Brighton Farmers' Market is held Sundays, 9 am to 1 pm in the Brighton High School parking lot, 1150 Winton Road S., Rochester. The Market is sponsored by the Town of Brighton. More information about the market can be found at http://www.brightonfarmersmarket.org or on the Market's Facebook page.
See you Sunday!